---
April 16 - 28: "Grace"
Paintings by Laura Higgins

Exhibition open: 2 - 7 Tues - Fri.
11 - 5 Saturday and Sunday
Opening Reception: Saturday April 20 from 1- 4 pm.
---
Biography
Toronto artist Laura Higgins has been creating vibrant acrylic paintings for fifteen years. Laura exhibits regularly in solo and group exhibitions in Toronto, Markham and Stouffville and has won awards for her paintings in juried shows. Many private collections in Canada, the United States and the United Kingdom feature her work, including commissioned pieces.
---
Artist's Statement – "Grace"
Much of my recent work has been created as a way of finding hope and peace within the experience of loss. Most of the images are based on personal experiences where I have felt a sense of connection with something greater than myself or caught a glimpse of hope amidst the darkness. Many paintings attempt to reveal the "extraordinary" nature of everyday moments in light of the changeability of life. Loss can infuse memories of these moments with meaning and beauty. For instance, the painting, Love's own, depicts a time of light and laughter that I later recognized as an instance of grace, a quiet message. My personal need to believe in the "next" life and the desire to be reunited in that life with loved ones is another theme that appears in some of my work. Light has always played a major role in my paintings, but in this body of work, it is even more important as an expression of blessing, of faith, of love, of "grace."
---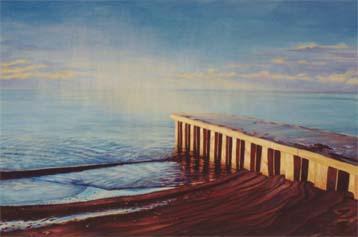 Bridge: Acrylic/canvas 36" x 24" Changing: Acrylic/canvas 30" x 40"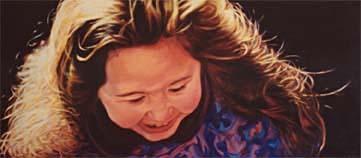 Love's own: Acrylic/canvas 32" x 14"
---

click on images below to see in higher detail

---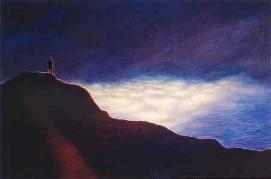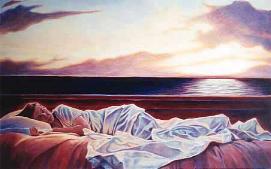 "Hope's Answer" 24 x 36. Acrylic on canvas "The Dream" 30 x 48. Acrylic on canvas.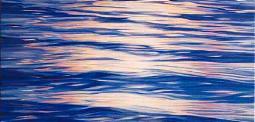 "Untitled" 12 x 24. Acrylic on canvas.