---
November 13 - 25: Valerie Fillingham
"Snapshots; Greetings from Hampton Beach!"

Exhibition open 12 to 6 p.m., Tuesday - Friday,
11 to 4 Saturday and Sunday

Opening Reception: Tuesday, Nov 13, 6 p.m. to 9 p.m.

Artist Statement

I work with oil paint on canvas or wood panels, using the alla prima technique. My work explores the sculptural capabilities of the paint medium to create form, movement and depth while interpreting the effects of light and colour relationships.

The conventional rituals of everyday life interest me, and through the painting process I try to explore and appreciate their value. Over the past few years I have generated a large body of work influenced by the urban environment. Street life and cityscapes have primarily been my focus. In addition I have developed a strong body of privately commissioned portrait and landscape work.

My new series of paintings, Snapshots; Greetings from Hampton Beach!, combine my interest in both the expression of the human form and landscape. The images chronicle a quintessential 1960's Canadian vacation by the ocean. Each piece is a snapshot influenced by a collection of photographs of my mother and friends from the era, as well as old beach postcards. I am interested in reflecting the human condition through collections and mementoes. The work as a whole celebrates memory and reminders of youth and comradery. They express a remembered feeling of intimacy and warmth.
This series considers the interaction between the subject and the taker of the picture, while bringing my own interpretation to the captured moment, someone else's moment, through the painting process.
---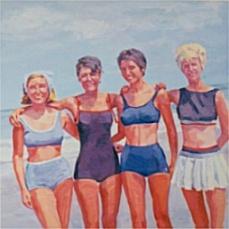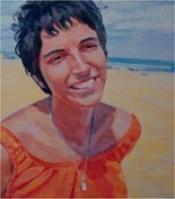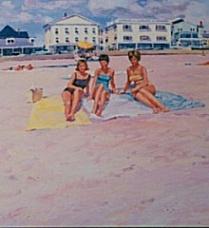 Girlfriends - Oil on Masonite Snapshot - Oil on Masonite Beachblankets - Oil on Masonite
Panel, 24" x 24", 2000 Panel, 24" x 24", 2000 Panel, 24" x 24", 2001.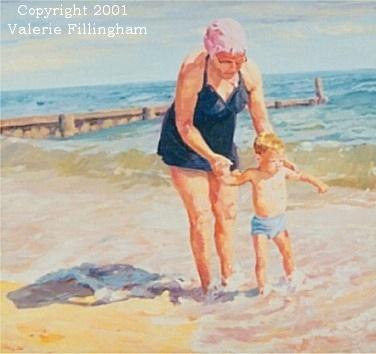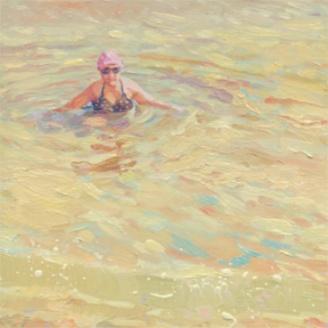 Pink Bathcap - Oil on Masonite Swimmer with Sunglasses - Oil on Masonite
Panel, 24" x 24", 2001. Panel, 24" x 24", 2001.